Black and Powerful: Celebrating black people in sports leadership
Sport and politics are inseparable. It is a truth we choose not to acknowledge under the pretense that sport is too innocent for politics and politics too cynical for sport, but they are in many ways one and the same. When the topics of race and blackness elbow their way into either industry the results are remarkably similar: initial disdain, disdainful reluctance, reluctant acceptance, and now accepting celebration.
Black sportsmen and women have rarely flourished as much as they have today. We have arrived here as a society—with the proviso that there is still a long way to go—via a catalog of historical and modern-day black sporting heroes who have knocked on doors and, upon being refused entry, smashed them open in joyful defiance. They have led the way and continue to inspire new generations of athletes from minority backgrounds who, not too long ago in this country and abroad, would have been ridiculed, shunned, or ignored. Times are changing, and it's all down to the amazing athletes who have led the way.
Sport, just like everything else, is often in conversation with the past. This much was clear two weeks ago, when the boxer, Anthony Joshua, thundered his way past the stubborn Alexander Povetkin and succeeded in defending his IBF, WBO, and WBA titles. Although boxing is an individual sport, Joshua has still regularly demonstrated his own brand of leadership from the respectful attitude he has toward opponents, to the way he carries himself outside of the ring, and the clear role model he is becoming for children who wish to enter the competitive sport.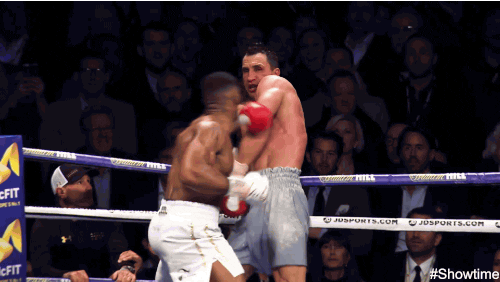 The statistics speak for themselves: with 22 victories him, 21 won by knockout, AJ has now defended a title 6 times. At the same point in their careers, Wladimir Klitschko, Lennox Lewis, and Mike Tyson were still chasing their first title. Joshua's achievements at this stage are impressive but it has not come without hardships.
He was denied the opportunity to fight for his parent's country of Nigeria after the sporting officials deemed him not good enough for the 2008 games, and since competing for Britain, Joshua has become emblematic of the sporting diaspora that must wield and uphold two identities lest they run into trouble. It parallels Frank Bruno's experience. After a fight with Lennox Lewis in the famed 'Battle of Britain' in 1993, Bruno felt compelled to repeatedly assert 'I'm not an Uncle Tom', following the pre-match furor concerning his identity and, indeed, Lewis' Britishness.
To be black and British means one's identity and supposed loyalty will always be in question and you can either answer it off the field like Bruno and Lewis or on the field, like the now late Cyrille Regis. He died in January of this year after being a trailblazer for black men in football, spending much of his career subjected to racist abuse from the stands, as was common at the time. What was so special about Regis, and what demonstrated his leadership throughout his 19-year career, was his cool head and his ability to be so brilliant despite the rampant discrimination he faced.
It is not always possible to overtly avoid the politics that come with being black in sport, especially in America where racism has always flourished in a far less subtle way. Indeed, the issue of police killing unarmed black men have been high on the agenda for several years and when Colin Kaepernick, the American football player, tried to bring some public attention to the issue by kneeling during the national anthem, he faced such a tremendous backlash that he was quickly driven out of the sport.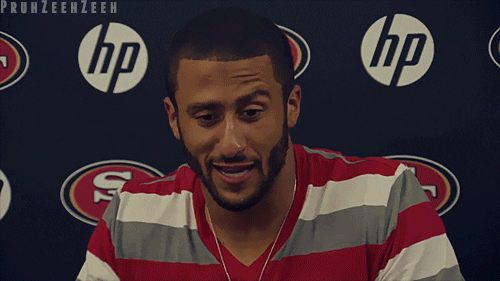 It was an extraordinary act of leadership and an equally extraordinary reaction. Even for a country so narcissistically consumed by its own patriotism, the ridiculous response, fuelled by President Trump, to a black man attempting to raise black issues by using his profile, said everything about how race functions in the West. We all pat ourselves on the back for how ostensibly progressive our societies are, before lashing out when real problems are dragged into the mainstream.
Kaepernick has led the way in an age of black athletes who refuse to be silenced. There are those who make the half-baked claim he had no right to bring politics into the sporting arena, an argument that falls apart when one considers that arguably the greatest, and most beloved, black sportsman of all time is Muhammad Ali, a man who was inherently political and didn't attempt to separate the game from his beliefs.
Ali led multiple generations based on his fighting ability, his irrepressible confidence, and his larger-than-life personality. Just through merely existing, he destroyed decades of detestable stereotypes prevalent in 20th Century America that painted black men as illiterate, lazy, and strains on the state.
In complete contrast, he was a wordsmith, often dazzling reporters with his meticulous use of the English language, he was a workaholic and he was, for a couple of decades, one of the most famous and recognizable men in the world. Serena Williams has cited Ali as a personal inspiration of hers, and in many ways, she has embodied his fighting spirit on the tennis court through her lengthy and illustrious career. But it is a career that, through little fault of Williams, has been blighted by several controversies, and she has been victim to such a long string of regrettable and incorrect refereeing decisions that eventually it becomes difficult to call it all a coincidence.
Leadership, however, a characteristic Williams exemplifies, means battling through all sorts of injustice, whether it's on or off the court. Leadership is about being a trailblazer in one's respective field and being unafraid to challenge uncomfortable truths or orthodoxies. Whether it's Usain Bolt and his audacious personality scooping up medal after medal; or Chris Hughton continuing to thrive in a field that, for whatever reason, continues to struggle with diversity; or Jesse Owens dismantling an entire racist ideology in the course of an afternoon, we can only sit back and celebrate a growing history of black sportspeople who were never taught to take no for an answer.