Six Nations: How England can beat France at Twickenham
Last Saturday, England defeated Ireland 32-20 with a physically dominant and tactically astute performance. Having defeated the Grand Slam Champions, Eddie Jones' boys return to Twickenham on Sunday to face the old enemy, France. England must be prepared to face a wounded French team who threw away an opening day victory against Wales in Paris last Friday. Here are the key areas that England should target in order to defeat Les Bleus.
Prevent the offload
France are a team that thrives on the counter attack, especially in broken field. Their attacking strategy aims to exploit extremely tight spaces with massive forwards, giving several passing options both before and after the tackle, thus enabling a potentially devastating offloading attack.
In the first half versus Wales last Friday, France completed 11 successful offloads, allowing them to get ahead of the gain line and keep Wales on the back foot. This success meant that France finished the first half 16-0 up. However, in the second half, Wales limited French offloads to just 2 with a more aggressive defense and far more 'wrap tackles' which prevented any offloads. France lost 19-24.
One of the most impressive features of England's victory in Dublin was their defence. Their defensive line was very tight, leaving 10-15 metres open on the outside, and their line speed was intense, allowing England to make 2-3 man dominant hits which stopped Ireland behind the gain line and prevented their ball players from influencing the game. The same strategy should be employed once again and would stop the French attacking plan dead in its tracks.
Kick the areas
A theme of the present French side is that they are statistically more likely to lose when they have the majority of the territory and possession. Against Wales, France dominated both stats with 57% possession and 63% territory and lost, similar statistics are evident in their defeats to both South Africa and Fiji in the Autumn. However, in their victory against Argentina in November, France maintained just 42% possession and 45% territory. If France have the ball, then it is impossible for them to utilise their potent counter-attacking threat and they will lose.
On Sunday, England should kick to France and encourage them to play. This would nullify their main threat and force mistakes, giving England an attacking platform to play off. France have already proven themselves prone to mistakes this Six Nations, as seen with Yoann Huget and Seb Vahaamahina last Friday. A strong defence in good field position will reap rewards for England.
Win the psychological battle
Time and time again, the French prove themselves to be mentally weak. Inexperience and disorganisation are key characters in the French team, and this unpredictability can work in their favour. More often than not however, it does not. The slightest mistake or loss of concentration can cause them to completely capitulate, which is what happened in the second half against Wales.
England need to capitalise on French anxieties early and keep their confidence low, France will be under pressure to bounce back from last week. If England can start well and maintain physical and territorial dominance, then expect a comfortable England victory. But, if France are allowed to remain in the game, anything can happen and France are fully capable of stealing victory from the jaws of defeat, à la Gael Fickou, Paris, 2014.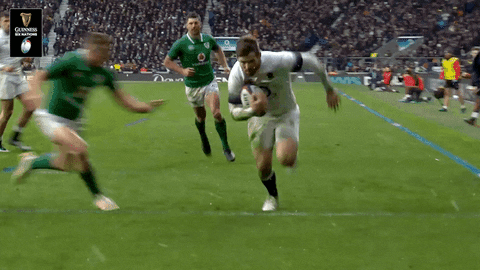 England vs France kicks off at 3pm on Sunday, ITV One.